The city of Budva in Montenegro will host – from August 17 to 19, 2023 – the first edition of "Budva Sports and Arts Film Festival (BSAFF) – Montenegro International FICTS Festival" phase of the "World FICTS Challenge".
The event is organized by Extreme Production directed by Montenegrin photographer and director Mr Miloš Todorović in collaboration with FICTS – Fédération Internationale Cinéma Télévision Sportifs, the Municipality of Budva, the Ministry of Culture, Sport and Tourism and the Montenegrin Olympic Committee (COK).
FICTS Secretary General Enzo Cappiello will join the Festival that will be held at the Avala Hotel.
The Festival will consist of projections (34 movies from 15 Countries), meeting and ceremonies. 
FICTS – Federation Internationale Cinema Television Sportifs (joined with 130 Countries.com), is the only Federation of the field recognized by the IOC (International Olympic Committee) for which it promotes the values of sport through footages, supports and organizes – every year – the "WORLD FICTS CHALLENGE" Worldwide Championship of Cinema, Television and Sports Culture (20 Festival in the 5 Continents) with its Final "SPORT MOVIES & TV" (Projections, Meetings, Workshop, the "Paralympic International Movies & Tv Festival", Exhibitions, Awards of National and International Guests, Side Events, etc) held in Milan (Italy) from November 7 to 11.
The winners in BSAFF will compete in the Final in Milan.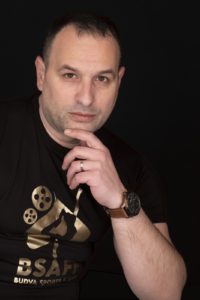 "From various experiences, after visiting sports film Festivals and meeting several producers, the idea and desire to do something similar in Montenegro was born. FICTS has 130 joined Countries of which 20 have their own sports film Festival organized in collaboration with the Federation recognized by the International Olympic Committee. The idea that Montenegro could host one as part of the "World FICTS Challenge" International Circuit was born. In addition to culture, sport is also one of the best representatives of the country, as demonstrated by the results of our athletes, both individual and as a team. Sport is a pure emotion and an honest story". The city of Budva is a candidate for "European Capital of Culture 2028″ so such events are in its favor" – said Miloš Todorović in an interview.